Description
Q1. China's largest commercial vehicle firm Beiqi Foton wishes to enter India's Automotive market. Conduct a PESTLE analysis for Beiqi in India & suggest whether Beiqi should enter India or otherwise.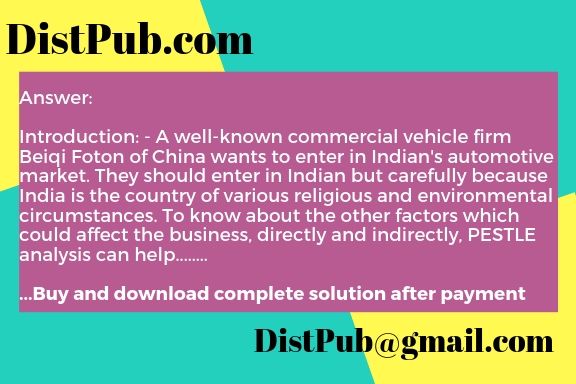 Q2. You have been appointed as a Strategy Consultant to Dolce & Gabbana Italian brand wanting to enter India. Which one of Porter's Generic Strategies would you choose to be operational in India & explain the reasons in detail behind your choice of strategy? Once the strategy has been chosen, explain the categories of customers you would target?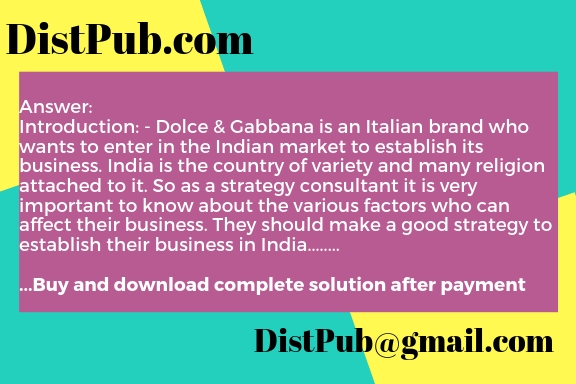 Q3. You are the Chairman of Nissan Motors in Japan. Your Indian subsidiary Nissan India has managed to gain only 1.9% of the market share so far & Competitor brands such as Maruti & Hyundai account for 50% & 17% of the market shares respectively.
a. What turnaround strategies can you suggest to arrest the decline of revenues & profitability of your company?
b. In your opinion, would it be considered appropriate to pursue a Combination Strategy? State your response with appropriate justifications & reasons.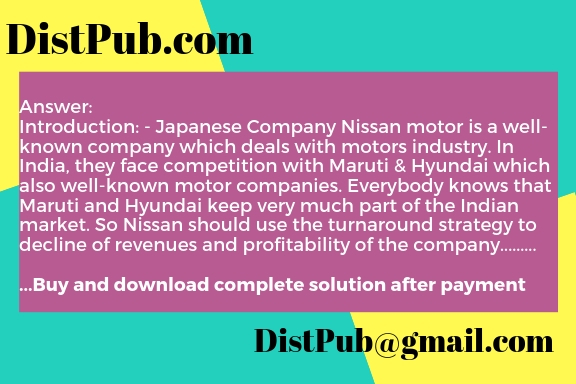 You can download this nmims solution instantly. Visit nmims section for complete solution or take our nmims sample paper membership for study and assignments