Description
Manpower Planning Recruitment and Selection Apr 19
Buy Manpower Planning Recruitment and Selection Apr 19 Solution from DistPub.com see answer brief for your reference. you can get complete solution after payment.
Q1. XYZ Enterprises is in the business of setting up Solar Power plants. Over the years, the company has been hiring bright engineering graduates from good engineering colleges. They follow a systematic process of identifying colleges to recruit from and have a detailed recruitment process, including a written exam and personal interviews. However, there are very high levels of attrition amongst the graduate engineers. When the HR team did a detailed analysis of the data, they found two primary reasons for the exits:
1. The engineers used this as a temporary job while preparing for higher education courses, particularly for colleges abroad.
2. The role itself did not really need high-level engineering skills and the roles they were performing, could easily be done by skilled and well-trained diploma graduates or technicians. The company has now decided to focus on hiring technicians and diploma graduates.
Question. What aspects of HR Planning and Strategy will the company need to focus on for this approach to be successful? (10 Marks)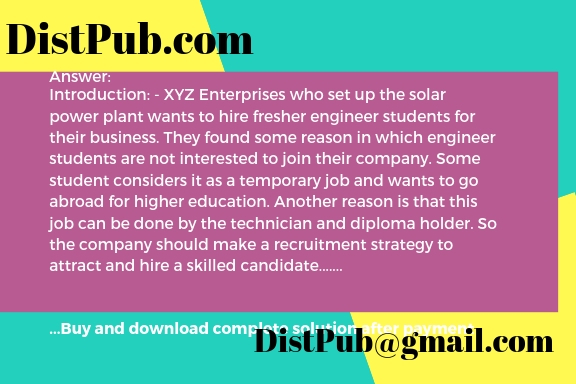 Q2. Jahazi Company is a company that is into operating boats for leisure cruises in Kerala. The owner of this company, Mr. Nair, now wants to move into International waters by setting up a base in Singapore, to provide these services in South East Asia. Mr. Nair is planning to move to Singapore to manage operations for all his entities from Singapore. However, he is worried that once he moves to Singapore, his original operations in Kerala will suffer. You are the HR Head of this company. Mr. Nair has asked you for advice on how to handle this transition so that the Kerala company performance is not impacted. Question: What is you recommendation and how would you approach this process? (10 Marks)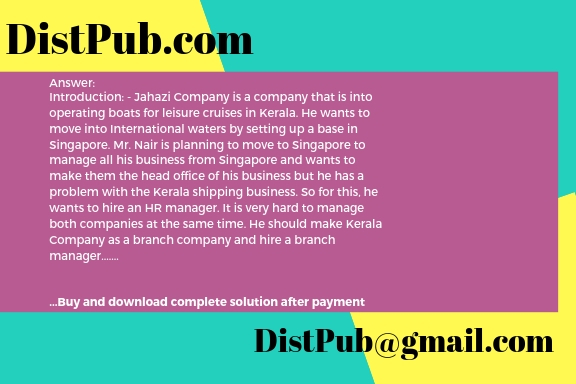 Q3. Funky TV is a music television channel that is very popular amongst youngsters. It is considered a fun channel and has a great brand recall value, but due to high content costs and other expenses, it is not very profitable. The channel is successful because of the new formats and interesting ideas it keep introducing regularly on air. The employees are mostly in the age group of 22-30. There are a few other employees from older age groups as well. The company prides itself on being a Crazy and Cool workplace. Each employee at the time of joining is given decorating material and lots of colourful paper to help them decorate their workplace. This is an open office layout. All employees including the senior management sit in the same area and there are small meeting rooms for people who wish to have a quiet conversation.
Every evening at 6 pm, one employee is randomly selected by draw of lots and gets to choose a playlist to play on the public address system. There is no dress code and employees are inspired to discover their individual style. The employees are encouraged to speak their mind, share their ideas and disagreements are considered healthy. Managers avoid taking unilateral decisions and prefer to have a consensus-based approach. The culture is also such that it attracts talented people from across all walks of life. The current channel programming in charge was a professor of physics before he joined the channel. Though the company faces stiff competition in the music television space and is not the best paymaster, it still has low levels of attrition.
a. Describe the basic features of Funky TV's organisational culture (5 Marks)
b. Basis the case study given above, what role does culture play in attracting talent to the company? (5 Marks)