Description
Solution: Instant Downloadable
Note: You can download solution instantly after secured payment. We will activate download link manually if pay through PayTM or offline payment and it will take around one working hour.
Q: Ram and Rahim enter into a joint venture to take a building contract for Rs.24,00,000. They provide the following information regarding the expenditure incurred by them: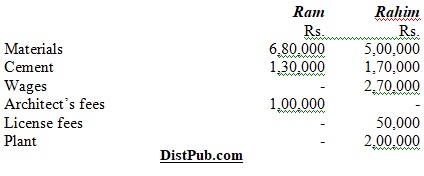 Plant was valued at Rs.1,00,000 at the end of the contract and Rahim agreed to take it at that value. Contract amount Rs.24,00,000 was received by Ram. Profits or losses to be shared equally. You are asked to show:
Joint Venture Account and Rahim's Account in the books of Ram.