Description
IGNOU MBA Solved Assignments JulyDec18
You can buy complete 2nd semester ignou mba solved assignments for July-Dec18 and get flat 10% discount for complete set.
MS05 IGNOU Assignments
1. In the present age of modern management and improved technology, what are the major strategic and operational decisions of production and operations management?
2. How can the relationships of different departments be considered in preparing a layout? Prepare a REL chart for the different departments of a typical hospital.
3. What is work design? What are its constituents? Explain using a schematic diagram. What is job design? What are the behavioral aspects in job design?
4. Service organizations usually have to be provided with a higher capacity than the estimated annual or monthly requirement. Why? Elaborate the statement.
5. Write Short notes on the following:
a. Exchange Curve and aggregate inventory planning
b. I-O-W (Input-Output-Waste) Model
You can buy this single assignment @ Rs.250/- per subject.
MS06 IGNOU Assignments
1. (a) What do you understand by the term marketing? Taking two examples of your choice highlight the importance of "Transaction" in the whole process of marketing.
(b) Critically evaluate the significance of marketing function in the Indian economy post economic reforms of 1990's. Prepare an essay highlighting the level of economic and social development, (you may access secondary data from various sources).
2. (a) What are the constituents of marketing mix? Discuss each of them in strategy formulation. Pickup an example one each from an FMCG and consumer durable of your choice and explain their role in strategy formulation.
(b) Why and when marketers, evaluate, and monitor consumer behavior? Elaborate by taking a suitable example where consumer behavior has largely played a key role in the success of the product/brand.
3. (a) Discuss segmenting targeting and positioning strategies. What are the advantages that a firm accrue from effective segmentation? Discuss the bases of segmentation for the following products.
i) Food processors.
ii) Perfume for women.
(b) Distinguish a product from a service offering. What are the distinguish characteristics of services that make them different from product /goods. Illustrate with an example.
4. (a) Discuss the concept of Product Life Cycle(PLC). Develop suitable marketing strategies for the following products that may be used at the introduction and maturity stage of the PLC.
i) Audio Music System
ii) Packaged fruit juices.
(b) Discuss the major pricing methods that are available for the marketers to effectively price their product.
You can buy this single assignment @ Rs.250/- per subject.
MS07 IGNOU Assignments
1. How do technological advances affect the spread and use of the Internet? What industries should pay close attention to efforts to regulate the Internet?
2. Describe the role of functional information systems. Also, discuss the managerial and strategic applications in the Accounting and Finance area or Human Resources Management areas that are supported by IT.
3. Is information technology as vital to modern global business as money? Why or why not? Describe the capabilities expected of information systems in modern organizations.
4. Define data mining and list some of its typical characteristics. Discuss some ethical issues related to data mining.
5. What are the major benefits of neural networks? Discuss some recent popular applications of Artificial Neural Networks (ANNs).
You can buy this single assignment @ Rs.250/- per subject.
MS08 IGNOU Assignments
Q1. A manufacturer produces three products A, B and C which he sells in the market. Annual sale estimates (in units) are indicated as follows: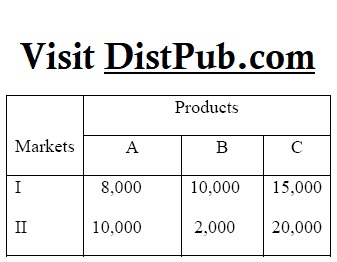 (i) If unit sale prices of A, B and C are Rs 2.25, Rs 1.50 and Rs. 1.75 respectively, find the total revenue in each market with the help of matrices,
(ii) If the unit costs of the above three products are Rs 1.60, Rs. 1.20 and Re 0.90 respectively, find the gross profit with the help of matrices.
2. Calculate the mean deviation from mean for the following table:



3. The incidence of a certain disease is such that on the average 20% of workers suffer from it. If 10 workers are selected at random, find the probability that (i) exactly two workers suffer from the disease (ii) not more than two workers suffer from the disease.
4. A normal curve has £g = 20 and "Ù= 10. Find the area between x1 = 15 and x2 = 40.
5. Explain the following concepts
a) Null & alternative hypothesis
b) One & two ¡V tailed test
c) Type 1 & type II error
d) Level of significance.
You can buy this single assignment @ Rs.250/- per subject.